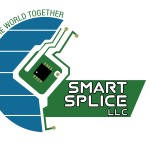 Smart Splice LLC provides tape splicing products at the lowest possible cost per splice in the industry!
Our products make it quick and easy to splice a new reel of components onto your pick and place machines resulting in less downtime.
Do you build boards?  Do you ever get cut strips of components with no leaders?  Our tape extenders will help you use these parts on your machines with having to add a strip of tape as a leader.  Use the parts right from pocket 1 with our Cover Tape Extenders.
Want to give it a try?  Just contact us and ask for some samples and we will be happy to send them to you.  We can also help with understanding the best way to splice your jobs.