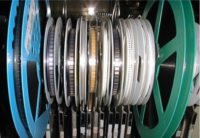 What do all of these reels of SMD components have in common? That's right, you can splice them ALL (including TH components), using the industries largest selection of tape splicing materials from Smart Splice! You can choose any solution, or combination of solutions from the following list of products. This list includes the industries first double edge splice tapes:
Double Edge Splice Tapes
Double Splice Tapes
Clip and Splice Tapes
Single Splice Tapes
Smart Feeder Splice Tapes
Metal Infused Splice Tapes
Brass Splice Clips
Cover Tape Extenders
Carrier Tape Extenders
Tape Cutting Tools
Tape Splicing Tools
Alignment Jigs
Thru-Hole Splice Tapes and Clips
 
Contact Smart Splice today and put us to the test, we have the solution to solve your toughest tape splicing problems.